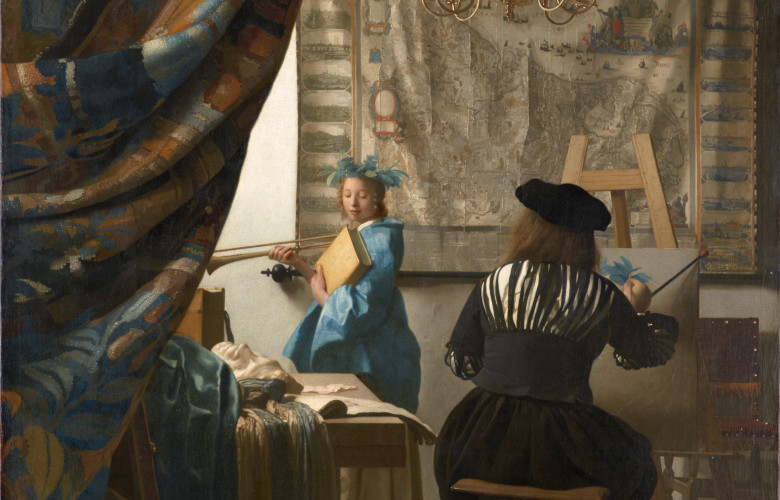 A scene from the BBC's adaptation of Normal People that particularly resonated with me was when Connell Waldron spends an entire day viewing and contemplating Johannes Vermeer's The Art of Painting in Vienna. Watching this during lockdown led me to consider the future of museums and galleries, and what the 'new normal' will look like in a post-pandemic world.
There are various challenges involved in reopening a museum in this time of coronavirus; some obvious, some not. Of course, the chief aim is to limit the number of people in an enclosed space, breathing the same air, in order to stop the spread. Doors, bannisters, reception desks and information cards are obviously watch spots for germ contact. Small scale installations requiring an enclosed space cannot be easily arranged. With the virus largely spreading in aerosol particles, masks are recommended for gallery guides and visitors alike, meaning communication becomes more complicated. The government has given guidance mitigating for all of these factors, but museums are also tackling them in their own ways.
Many large buildings like the purpose-built National Gallery or the converted power station of the Tate Modern, can more easily meet social distancing guidelines because they have at their disposal wide open spaces where people can spread out. These were therefore some of the first institutions to open. Pre-booked timed tickets ensure that there is a trickle of visitors all day, with shorter visits encouraged, meaning Connell would find it difficult to stay with a painting all day if he were to visit a London gallery.
Others have not been as fast to remobilise after closure, such as the British Museum, which, although spacious in many places, does have bottlenecks where social distancing would become difficult. The British Museum's Director, Hartwig Fischer, says that they have spent time 'assessing how we can accommodate the appropriate number of people and manage the flow around some of our most popular artefacts'. Before closure, it would be normal for pieces like the Rosetta Stone or the Sutton Hoo Helmet to be surrounded by scores of visitors at once. In the new normal, this cannot happen, and museums with 'star objects' are working to mitigate this issue before they reopen, particularly tourist hotspots (when they are again) like the British Museum. It will now open from 27 August.
The challenge of adapting museums to cope with social distancing measures is worst felt in places that were not designed to be public spaces, such as the Wallace Collection and Apsley House, both built as townhouses. The National Trust, which looks after more than 500 houses and castles that have become visitor attractions, is understandably treading very carefully with this. John Orna-Ornstein, Director of Culture and Engagement, points out that 'it isn't as simple as just taking the dust sheets off the furniture and opening the doors, our plans have involved working out how many people can be in a room safely [and] how long they might spend there'. It will be necessary for visitor experiences to be curtailed in order to avoid congestion; some rooms and routes may be cut for the foreseeable future in many historic properties.
Museums are following the lead of supermarkets in extending their opening hours to spread out the times that people visit. The National Gallery has recently changed from 39 hours a week when it first reopened to now 51 hours a week. Solutions like this could be the answer for many museums that want to maintain visitor numbers safely.
Deep cleaning, which forms part of the government-guided strategy for reopening museums, is easier to implement in some museum spaces than others. Newer, 'white cube' institutions like the Tate Modern or the Design Museum can manage this more easily than older institutions and historic houses, where cleaning practices are usually purposely minimised in order to protect the objects and buildings. I can't emphasise enough how dusty we allowed some surfaces to get when I was a National Trust intern! New practices will have to be developed by historic property managers in order to balance enhanced cleaning practices with conservation.
Even implementing hand sanitiser stations is not simple for museums. Research from the US has shown that alcohol-based sanitiser is more damaging than the water-based variant, so museums have to be careful to use the right materials.
Sharing information in museums through the traditional means also has become more complicated. No large-text guides for the time being, wall text placement has to be rethought so that congestion is not created at doors, and front-of-house staff would ideally keep communication with visitors to an absolute minimum. With museums becoming potentially less communicative places, these institutions should think about how this will affect the accessibility for all audiences.
Traditional tour groups are a thing of the past. In our current situation, it's impossible to have a speaker present in front of a massed group of people, meaning ways of sharing information on exhibits are having to change. One touted solution is the 'virtual tour', using an iPad-equipped robot to help deliver a tour for virtual visitors. It's not quite the same though, especially in spaces where the building itself is part of the attraction.
The huge changes to society brought by the coronavirus pandemic have been felt not least by the heritage sector. Following guidance from government and using experiences of other sectors is only part of the solution, and, as we have seen, London museums are tackling the challenge in their own effective ways.