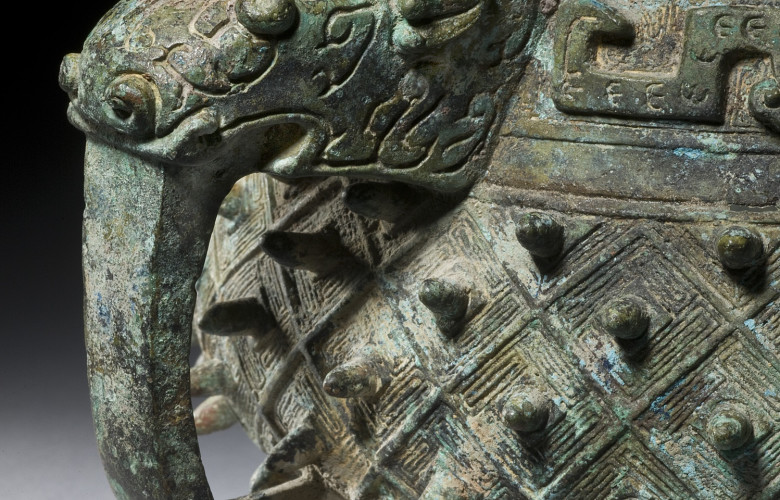 One of the familiar London experiences of a generation or so ago was to stroll down Bond Street or Cork Street, glancing in at the ubiquitous art galleries crowding there, to observe a bored young Sloane painting her nails and waiting desperately for a potential customer. It is an image of the past. Now many of those galleries will have transmogrified into global fashion shops and, in those that linger on, the listless girl will have been replaced by a harassed man anxiously searching a computer for an internet sale. Today the passing trade has all but disappeared for art and antique dealers: business is done mainly online – or at art fairs.
Fairs are the dealers' collective response to the remorseless dominance of the art world by the auction houses, mainly Sotheby's and Christie's. These days an ambitious dealer is a bird of passage, flitting between London, Paris, New York, Dubai, Hong Kong, Miami and Basel, taking stock to the door steps of existing, or ideally, new customers. At fairs dealers can console and gossip; buy and sell to each other – and poach clients. Fairs give dealers the sense that they are busy, that something might turn up to make the hassle worthwhile. After all, given the mark-ups on rare pictures, for a dealer in contemporary, modern, Impressionism or Old Masters, one good deal can pay for a year's overheads.

The attraction of art fairs, in comparison to the tedium of an unvisited gallery, is the possibility of the unexpected. Dealers use fairs to entertain their local clients, hoping that an annual get together will lead to an annual sale. But they can also bring in new business. Dora Janssen, who with her husband Paul had amassed one of the finest collections of pre-Columbian art, found herself being edged out by the crowd from her dealer's stand at the first night party for TEFAF Maastricht a few years ago and ended up on the adjacent pitch of Sam Fogg, a dealer in illuminated manuscripts. Her eye was caught by a modestly priced medieval miniature. She bought it. At the next year's fair she acquired a very rare and expensive Book of Hours from Fogg. She was the perfect new client.
The annual March get-together at Maastricht remains the climax of the art fair calendar and offers a good example of the vicissitudes which have given art fairs such a roller coaster reputation of the last generation or so. It began as a specialist event for dealers in Dutch and North European Old Masters, conveniently located where Holland meets Germany and Belgium, in easy reach of connoisseur industrialists, then a common breed.

It soon moved from a shed-like venue to a grand exhibition centre which it attempts to convert into fairy land. This year rich collectors passed through a rose strewn avenue into the glitziest range of art and antiques that the world's top 200 plus dealers can assemble. With a nod to the scholarly there is always a loan exhibition from a leading museum, but Maastricht is basically business. It works because it is a non-profit venture run by dealers.
In contrast its traditional British rival in prestige, the Grosvenor House Fair, closed suddenly after 75 years in June 2009. Its demise was unexpected but understandable. Very much the British fair, dominated by British dealers – foreigners were only allowed in 1990 – it traced its origins back to the 1930s when rich Americans flocked over for the London Season and to buy 18th century English furniture and paintings to decorate their mock English homes. The fair changed little – the same dealers occupied the same slots in the Great Room of the hotel, sometimes showing items familiar from a previous year. There was a certain panache about it all: it was typical to see an Old Master painting, which had sold at auction a few months previously for £500,000, being offered for £1m. Dealer rivalry could lead to some unseemly squabbles: one leading jeweller upped and left for ever when the authenticity of one of his exhibits was questioned by the vetting panel. But while the Fair remained unchanged the Americans stopped coming in sufficient numbers; the continentals had little taste for British antiques; and the hotel decided it could rent out the space more profitably.

Its disappearance encouraged a raft of would be June successors, of which Masterpiece has proved the most successful. Its organisers realised that art is now regarded by the rich as a lifestyle accessory and offers cars, yachts, and other high value fashion goods alongside antiques.

But the real change in art fairs over the past generation, apart from their proliferation, has been the embrace of the new, Art Basel led the way, becoming each June the place where contemporary art started to update the modern. Its organisers were also the first to realise that art should follow the rich, first organising a fair in Miami and then Hong Kong. The British equivalent, Frieze, which capitalised on the vogue for Young British Artists by setting up a tent in Regents Park, also touched the zeitgeist and now has a New York off-shoot. It also showed chutzpah by adding an Old Masters section to its canvas bazaar.

Dealers complain about art fairs. The growing expense of a stand – up to £100,000 for a prize spot at the most prestigious fairs – and the perpetual motion. But it is better than twiddling the thumbs in an empty gallery. And there is always the example of oriental dealer Ben Janssens. An English couple came to Maastricht to buy an Old Master but saw a lacquer bowl on his stand; bought it, and returned every year, often spending over six figures and assembling one of the best lacquer collections in the UK.