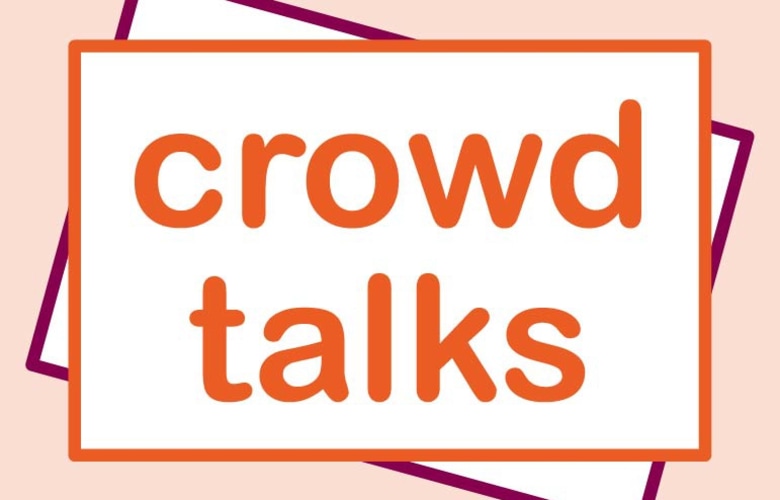 In my foundation year at Camberwell College, I remember asking my tutor if I could go to the library and, without a hint of irony, he said: "you can, but don't get suffocated by all the knowledge". I laughed, before realising that he definitely wasn't joking.
It now occurs to me that he was trying to encourage a focus on original thinking, a move away from the kind of 'academic' learning we are taught at school. One thing art colleges are doing very well is inviting discussion among likeminded students, where notions of creativity and different practices are challenged. Although, having said that, it is very easy for these discussions to end the moment you leave Art College and start applying for bar work…
It is therefore encouraging to see emerging groups like Crowd Talks, hosting design discussion events across the UK. Crowd Talks is an exciting initiative started by four Brighton Graphic Design and Illustration graduates. The group recognised the value of discussion at an Art College level and wanted to extend the idea, bringing together students, graduates and practitioners to create a greater diversity of opinion. I spoke to two of the co-founders, Roz Edenbrow and Laura Gordon who take the view that "Instead of slagging off unpaid internships (and then applying for them the next day) we'd rather facilitate a conversation between the small studio, the agency and the student."
Crowd Talks was inspired by the conversations they had with one another after lectures: "these were much more interesting". The informal setting of these conversations is reflected in the format of Crowd Talks; by inviting a panel discussion, Crowd aims to break away from a traditional lecture format and encourage open debate between the panel and the audience.
No matter where the events take place (past venues include The Book Club, Camberwell Space and Somerset House), Roz and Laura maintain the atmosphere is crucial: "We always say at the beginning of our events that we want the debate to be informal wherever they are… Crowd is important because we provide a neutral space to facilitate these really important conversations between students, graduates and industry." Hosting events in different venues they say has provided opportunities to "experiment with the format of the debate, tailoring it to the people that will be there".
Previous Crowd Talks topics have included internships in the Arts; the implications of online exhibition spaces; the effect of digital media on design and creation; the impact of the cuts to arts funding and the changing nature of Arts education. In such a fragile industry, events like these are important in allowing a platform for open debate to take place. Crowd Talks has not been going very long, but they are beginning to gain the recognition they deserve and have recently been approached to publish a book, inspired by their design discussion events and with contributions from Crowd panelists, students and industry.
The book launch for 'Crowd Talks: Volume 1' takes place this Sunday 5th July (4 - 6.30pm) at The Rose Lipman Building, 43 De Beauvoir Road, London N1 5SQ. Head down, buy a book, but try not to get suffocated by all the knowledge.
www.crowdtalks.co.uk
@crowdtalks