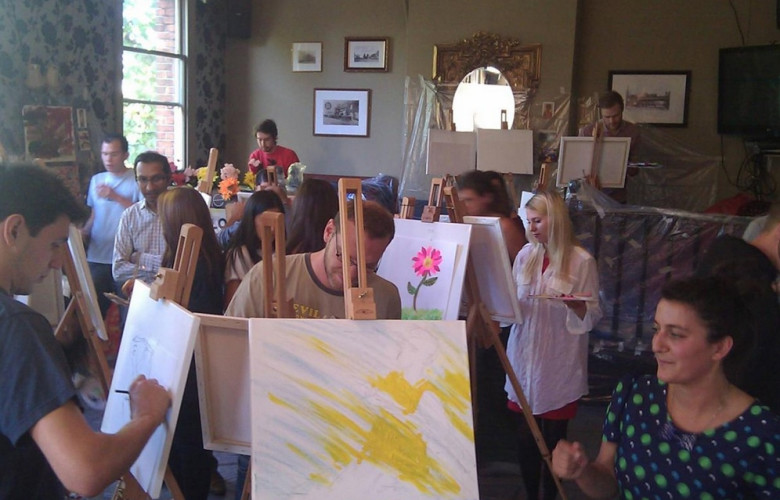 It's amazing that working in the art world, there is so little time for being creative oneself. Of course, our work at Golden2 Consulting has lots of creative merit; writing, brainstorming ideas, thinking strategically about clients needs and goals, and discussing the attributes of the visual arts we are lucky enough to work amongst daily.
However, our involvement in the artistic process is at the business end of the life cycle of a work of art. For example, its historical significance, its provenance, its value in terms of the artists development, its new (or not so new) arrival on the art market, who gets to look after it for the next generation, who will want to write or talk about it, and of course, its price. All valid, all fascinating, but concerned with looking and discussing, rather than making and creating.
It has become clear that the team at GS Towers all miss or need the creative process so much that a drawing class in the office meeting room has been decided upon, to take place one Monday a month.
There are many theories surrounding the link between creativity and psychological wellbeing, some of which I have been learning about during the year I have just completed at Goldsmiths, studying art psychotherapy.
Verbal therapy relies on three fixed elements, the therapist, the location and an allotted time per week to create a safe environment for a patient or group of patients to work. Art therapy introduces another, that of art materials, which are utilised by the patient during each session.
It's a myth that it's the work itself is then 'read' by the therapist, to ascertain what might be causing that patients distress or disorder. Instead, the focus is on the creative art-making process itself as therapy, or on the analysis of creative expression gained through interaction with the therapist and other members of the group. The finished artwork, which is always safely stored and kept for the patient, is as important as the process of its creation, which encourages beneficial changes to hopefully take place.
Even with patients in a very disordered and chaotic state, regular access to art materials in a safe group or individual setting can bring about a greater sense of self-awareness, reconcile emotional conflict, and encourage personal growth.
Despite longer working days and endless digital distractions, space to be creative is something that more and more people are choosing to prioritise and art classes have never been more popular. City Lit life drawing, pottery and painting classes sell out as soon as they are scheduled, events like Paint Jam attract artists of all ages and levels of experience, London Drawing is an initiative supported by Cowling and Wilcox, in which life drawing classes are offered during lunch breaks. Sewing bees and 'crafternoons' are advertised on Gumtree, and London Craft Week and Collect in May this year are testament to the interest in and skill of the UK's artisans and makers.
In his article on the art fair circuit in July's Tatler, Josh Spero talks about the art itself being the balm that keeps beleaguered gallery staff going, in an ever more crowded and exhausting round of events. Looking at art is vital as it reminds us who we are and who we aspire to be. Making is different; it's personal, restorative and meditative. It shouldn't just be a curriculum essential in schools, but a regular slot in everyone's weekly routine.