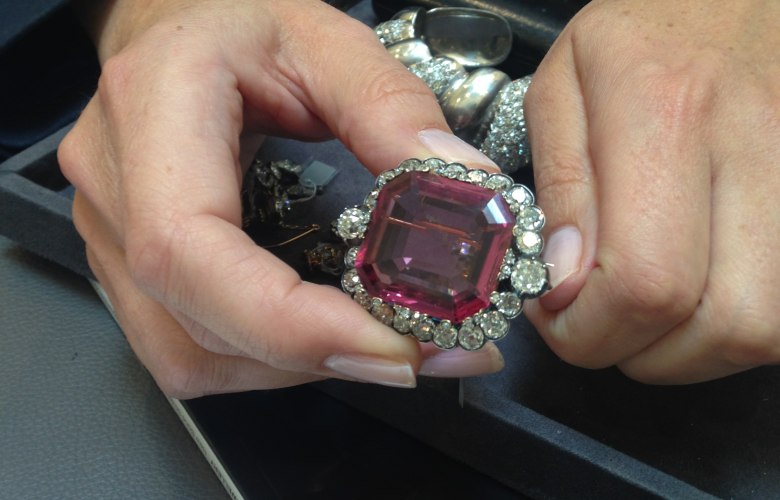 What better way to start the week than to be dazzled by jewels and to be treated to a sneak preview of Bonhams upcoming auction of fine jewels to be held this Thursday, 24th September at Bonhams, Bond Street? One of the benefits of having been in the art market for a number of years working across auction houses, fairs and galleries is the rich and varied network you acquire along the way and the access it can bring.
As Jean Ghika, Bonhams Director and head of the jewellery department knows I have long had a particular fascination with spinels that really began when we went to see the Al-Sahab Collection of Mughal jewels at the British Museum in 2001. It was a stunning exhibition that among other things elevated the spinel - often mistaken for a poor man's ruby or even as an 'imposter' - to its proper status of an important gemstone found in a gorgeous spectrum of colours. I have worn a cherry red spinel (or a colour akin to Mac's Diva lipstick) on my left hand for over 10 years!
One of the world's greatest spinels is the Black Prince's Ruby a bead-shaped spinel weighing roughly 170 carats (34 g), approximately the size of a chicken egg and currently set in the cross pattée above the 317.40 carats (63.480 g) Cullinan II in the front of the Imperial State Crown. The Black Prince's Ruby is one of the oldest gems in our Crown Jewels with a known history dating back to the middle of the 14th century. It has been in the possession of the rulers of England ever since and was given in 1367 to its namesake, Edward of Woodstock (the "Black Prince").
This week another spinel with a rich provenance goes on view and you can catch a glimpse of it before it goes under the hammer on Thursday. Known as the Hope Spinel it was once part of the remarkable collection of diamonds, natural pearls and precious stones assembled in the first part of the 19th century by wealthy art collector and gem connoisseur Henry Philip Hope (1774-1839). The large octagonal step-cut weighs in at an impressive 50.13 carats, is Tajikstani origin and was featured in the 1839 catalogue produced before his death... It carries an estimate of £150,000-200,000, but is likely to exceed this and break the world's record for price per carat.
Other treasures Lucy (Barry) and I got to try on included an exceptional art deco Cartier 'tutti frutti' bracelet (£350,000-550,000), an emerald and diamond ring by Van Cleef & Arpels, 1920 (£120,000-150,000) and – a personal favourite – a diamond 'torsade' bangle by Suzanne Belperron, circa 1932 (£40,000-60,000) which sadly is a little large for my wrist.