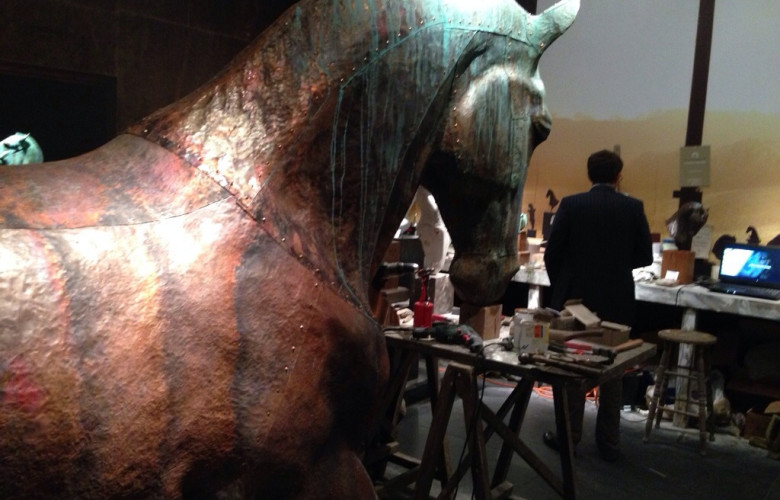 It's September and the art world means business. The Art Business conference this week kicked off the season with the great and good of the 'behind-the-scenes' art world girding their loins for Frieze, Frieze Masters, Biennale des Antiquairs and the inaugural TEFAF New York.
With a stand at an art fair being a significant expense (a stand at Frieze reportedly costs £500 per square metre) galleries will plan their space at a fair with the utmost care. The difference lies with those who will think beyond recreating their home showroom and those who will seize the opportunity to do something different.
But what does make a good stand at an art fair? If it comes down to visitor engagement, Sladmore Contemporary's stand at Masterpiece in 2014 serves as a great creative response. The gallery used their stand to recreate the studio of sculptor Nic Fiddian-Green, complete with piles of tools, moulds, sketches and works in process. This window into the artist's studio proved to be a huge draw for visiting crowds and resulted in the gallery winning the award for the Best Stand at the fair.
Titan of art fair design, Tom Postma can claim this year's Red Dot Award: Communication Design for High Design Quality, amongst many other accolades. The award was for the Hemmerle exhibition-stand at TEFAF Maastricht 2016. Postma created a unique structure of 16 individual screens made up of interchanging American walnut wood and aluminium rods. These mesh like walls resulted in the 'the multi-layered screen of the design appear[ing] to float and defy the rules of gravity' (hemmerle.com). It was not only something completely different, but was in keeping with the brand who have been known to use unexpected materials such as concrete in their striking jewellery designs.
What these stands have in common is approachability. To some, an art fair can be an intimidating place. These two stands gave visitors a reason to visit. Recreating Fiddian-Green's studio peaked potential buyers' interest by making the gallery and the artist's work so accessible, whilst Postma's Hemmerle stand at TEFAF Maastricht provided visitors with something eye-catching and memorable.
They say you should never judge a book by its cover but the beauty and appeal of the cover is as much a draw to a book as the content within its pages. They work cohesively; how you present something is as important as what you are presenting.