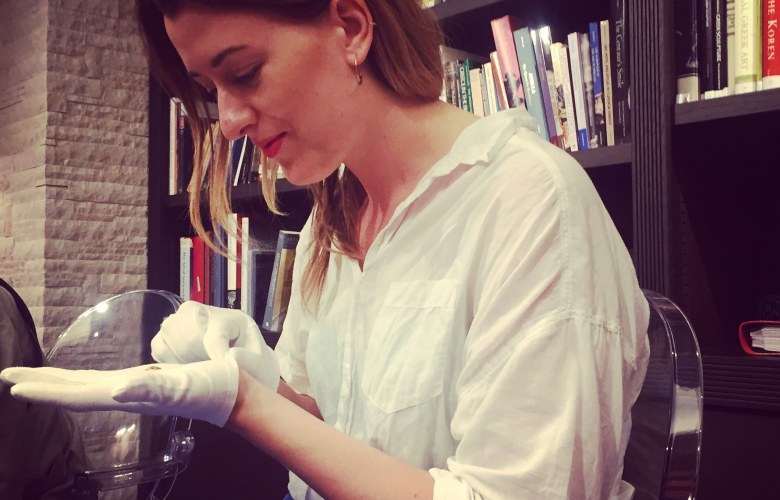 It's been a hot week in the London art world, both literally and figuratively. London Art Week 2017 coincided with one of the hottest Junes on record and kicked off with an al fresco breakfast at the Royal Automobile Club in Pall Mall. This was a TEFAF event, held on the 29th June in partnership with Invaluable and London Art Week, to celebrate the opening of London Art Week.
The RAC's beautiful premises proved to be a brilliant place for dealers to catch over some delicious croissants. Setting the tone for the morning, Patrick van Maris, CEO of TEFAF, welcomed guests and described the importance of 'our art community', a view echoed by art dealer and LAW board member Dino Tomasso of Tomasso Brothers. Professor Rachel Pownall gave an interesting insight into the new TEFAF Art Market Report: Online Focus, published that morning. Michael Plummer, one of the Managing Directors of TEFAF New York, highlighted findings in the report and the growing opportunities presented by the online space. Together with Rob Weisberg, CEO of Invaluable, a new initiative was announced: TEFAF TEN. In the lead-up to TEFAF New York Fall 2017, TEFAF will promote a different group of ten participating exhibitors each month to develop brand awareness and collector excitement around each exhibitors' involvement in the Fall Fair.
After breakfast came London Art Week's preview afternoon/evening… The Weiss Gallery's exhibition, dedicated to Tudor and Jacobean court portraiture, 'Courting Favour: From Elizabeth I to James I', was brought to life with beautiful costumes and period accessories. A replica of a 17th- century doublet on loan from the Perth & Kinross Museum was displayed alongside some of The Weiss Gallery's Jacobean portraits. The centerpiece of the show was a beautiful portrayal of the youthful Queen Elizabeth I, a bust-length version of the magnificent 'Hampden' full- length, currently on loan to Tate Britain.
The opening of Agnews' London Art Week offering was much anticipated as it coincided with the gallery's 200th anniversary and their extraordinary exhibition of Pre-Raphaelites at Masterpiece London. The gallery was wonderfully set up, particularly the back room, where the perfect lighting and slate walls picked up the darker themes of some of the works displayed. We moved on to Tomasso Brothers, who were opening their new gallery at Marquis House, 67 Jermyn Street. Their opening party was very well attended and served to remind us of how music and wooden flooring can transform Old Master settings into vibrant galleries - a perfect way to imagine classical sculpture working in a modern home. The distressed floor also echoed the artist's studio – a wonderful setting for their inaugural exhibition in the new space.
Art historian and critic, Susan Moore was the talk of the town during LAW with her new initiative: Slow Art Workshops (SAW)… A return to the 'old-fashioned' way of looking at art. The idea is that the curious art-interested public have a chance to interact with objects in a workshop led by dealers, rather than visiting a busy exhibition and viewing the art cold.
Kallos Gallery's Slow Art Workshop was a definite highlight. We were guided through their exhibition, Where We Are and Where We Have Been, which perfectly juxtaposed old and new. A prime example of this was an Anatolian marble idol, circa 2700-2100, displayed next to Petite Bleue, a bronze broach by Yves Klein from 1956-7. After walking around the exhibition and interacting with the objects, our group gathered downstairs for a special jewellery and coin handling session.
A great selection of ancient coins were passed around the group (white gloves at the ready), whilst gallery assistant Hayley McCole explained in detail the notable figures and mythical characters depicted on the coins, one of which featured Herakles and the lion. Of the jewellery being passed around, a favourite was a heavy lions-head bracelet from the fifth century BC which had everyone marvelling at both the weight and colour of the gold. The gallery prides itself on being ready and willing to let interested parties get up close and personal with some of their beautiful pieces. Outreach Officer Paul O'Mahony explained that the gallery often hits the road, taking pieces to schools and other institutions to run workshops for a range of subjects such as classics, history, art and drama - a great way to make sure these wonderful things can be enjoyed by a larger audience.
All in all, a vibrant and interesting London Art Week. We're looking forward to the next one (1st-8th December 2017)!