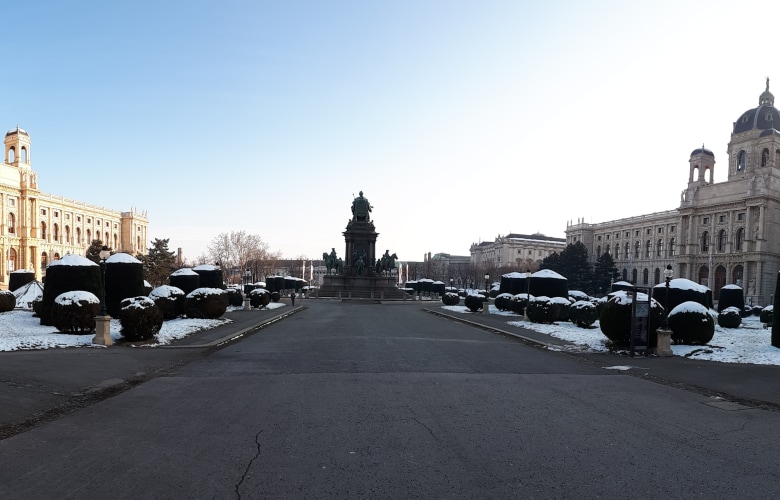 With the art world's eye firmly fixed on TEFAF Maastricht, I decided to use seventy-two hours to take a break from the busy mainstream. A quick Google of cities for art lovers throws up London, Paris, and New York but a city less often on people's lips and lists is the Austrian capital, Vienna.
Why?
Vienna is inundated with palaces, museums, galleries and churches. It packs a serious cultural punch for a city of only eight million inhabitants (surprisingly small given that it's often voted the best city in the world to live in). Vienna has far more cultural sites per capita than any of the top art world capitals yet largely passes under the radar in international art circles. Although it wasn't previously on my list of places that had to be seen, my short time in the city was enough to persuade me that it should have been.
The city possesses a trove of cultural and artistic delights. Past imperial residences such as Schonbrunn and Hofburg, dripping with gold panelling, hold the fantastic collections of the Hapsburg family who ruled Austria for 300-odd years. Some of the most active collectors in history, their vast collection continues to adorn their palace's halls and corridors. There aren't many places in the world where you can enter a living room and be surrounded by numerous Jean-étienne Liotard portraits. These sites of opulence and domesticity, in my opinion, rival even the best offerings of the National Trust and English Heritage here in the UK. I was only sorry that I didn't have more time to experience how the Austrian Hapsburgs lived.
The collection of the Hapsburgs (now belonging to the Republic of Austria) spills out into Vienna's main gallery, the Kunsthistorisches Museum, another place where even a full day isn't enough to see and enjoy everything. A veritable treasure house of art from every period of history, from Ancient Egyptians to Old Masters. Raphael to Tintoretto to Vermeer, the Museum is a veritable highlights reel of world art history (from a European's perspective). The collection easily rivals that of the National Gallery in London, with some elements of the atmosphere and the artworks reminding me of the British Museum.
Vienna continues to build upon this collecting pedigree. The Leopold Museum, in the Museumsquartier, houses the best of Austrian art and has been able to scoop some of the most recognisable works by Viennese artists Egon Schiele and Gustav Klimt. The most iconic work by Klimt, The Kiss, is also kept in Vienna, housed in palace outside the city centre called the Belvedere. These highlights of world art are unmissable, and I was glad that, upon arriving back in London, I was greeted with an Underground advert with Egon Schiele's works (including some strategically placed straplines for modesty), persuading Londoners to consider visiting Vienna.
Vienna also is home to Mumok, Austria's leading actively collecting public contemporary art space. I spotted a recent acquisition from Frieze London - Untitled (Brick Flag), by Reena Spaulings (2005), serving as an example of how Vienna continues to build on its regal collecting past. This being said, Vienna's collecting of art now will never match the collecting habits of centuries past. With less state interest in collecting contemporary art, Mumok finds itself lagging behind other contemporary public galleries around the world such as the Tate Modern in London or MoMA in New York. For all its past pedigree, I felt that Vienna's contemporary art institution does not live up to past collecting habits witnessed in the city. It felt, for me, that Austria's capital is more content to sit on its laurels as guardian of the vast collections of the Hapsburgs and the Viennese Modernists.
From my short time in Vienna, I got the sense that the commercial art scene was waiting to boom. The eminent, centuries-old Dorotheum auction house and well-established dealer Wienerroither & Kohlbacher (W&K) are two highlights of the Viennese commercial art scene. Vienna, like London and Paris, has the artistic heritage and identity to make itself a global art capital so it seems to be just a matter of time before this happens. While there are only a handful of Austrian galleries at TEFAF Maastricht this year, I can only see this number going up.
Vienna's fantastic collection accrued by the Hapsburgs and by the state make it one of the artistic jewels of Europe and I am surprised that it doesn't feature nearer the top of lists of European cities for art lovers to experience. My short time meant I missed out on seeing a great number of Vienna's treasures, the Secession Building and Albertina being two particular places that I sadly couldn't jam into my packed schedule. Although much was included in my 72-hour jaunt to the city, I would have needed 72 days, or perhaps a lifetime, to really experience the wealth of cultural treasures that Vienna offers. If it wasn't on your radar before, I hope it is now.