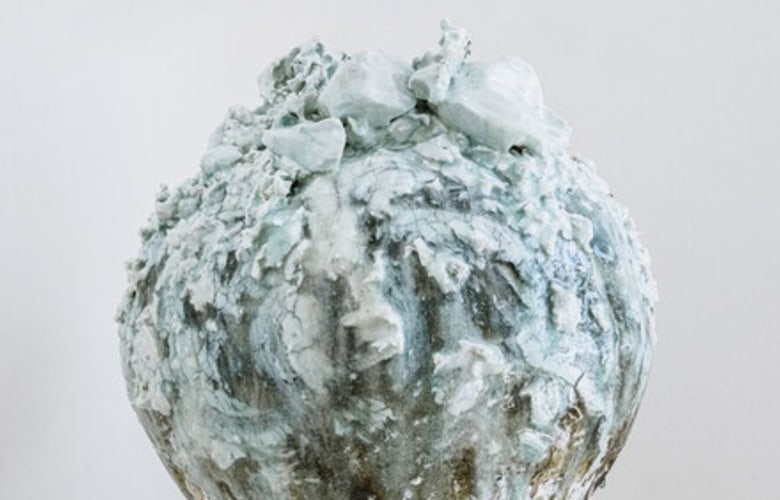 Make Hauser & Wirth Somerset has become a pioneering destination for contemporary artists, showcasing some of the finest artisans in the fields of ceramics, woodwork, textile and glass. Many of these are currently on display at the gallery's main London site, in a small but beautiful presentation of works coinciding with Collect 2020. Featuring works that are both traditional and innovative, each piece has been selected to form a stunning collection of contemporary crafted artworks from internationally recognised makers within their field. The elevation of this artwork has taken time, but as these fascinating pieces show, it has been worth the wait.
One of the highlights on display is the group of vessels by ceramicist Florian Gadsby. His mix of green feldspathic crackle glazes all of the simple shapes, keeping focusing on the elegance of the pieces. His introduction of a vertical line shows the growth of his work, nurtured under the watchful eye of Lisa Hammond MBE, towards a considered artform that encompasses the elegance of colour and the form of craft.
Alexander de Vol also had two works on show, one made from ebonised cherry (Large Dumpling) and another from porcelain (Small Dumpling). In these two works, simplicity of form is key to the artwork, allowing the material to be at the heart of the piece.
The works that I was most struck by were the two Moon Jars by Akiko Hirai. Their multiple layers of fired slip glazes create a surface that resembles volcanic matter, dreamlike in colour, as green hues and a celestial white create a vortex around the jar. Her celebration of the imperfect draws the viewer into the rich texture of the pieces.
With under 30 works on show this was a selective yet perfectly formed presentation, showcasing what is happening in the contemporary makers movement.