Home – is it the four walls that surround you? Is it the country, county, city where you feel most grounded and stable? Is it the people you are with and the memories of happy interactions? What makes a place a home? At a time where we are all spending more time at home, it provides a good opportunity to consider what 'home' means. The concept of home becomes ever more complex the more you dive into it – for an eloquent and insightful look into the concept and some important reminders about being still at a time where we cannot travel and move as we wish, check out this TED Talk by Pico Iyer, the essayist and novelist, well known for his travel writing.
For all of us now during the coronavirus pandemic, staying within four walls is a necessity; for some, like me, this means being on my own. My parents live in North Carolina and my sister, brother in law and niece are in Gloucestershire. Usually for me, 'home' is inextricably linked to the people I am with, but for the coming weeks it is the four walls that I inhabit. I am extremely fortunate to live in a lovely part of London in a beautiful flat…but it hasn't meant that I haven't daydreamed. Where COULD I spend these self-isolation days should I have limitless choice? Here are my picks of places where I wish I could self-isolate – all I would need on top is friends, family and good food to almost make them feel like 'home'.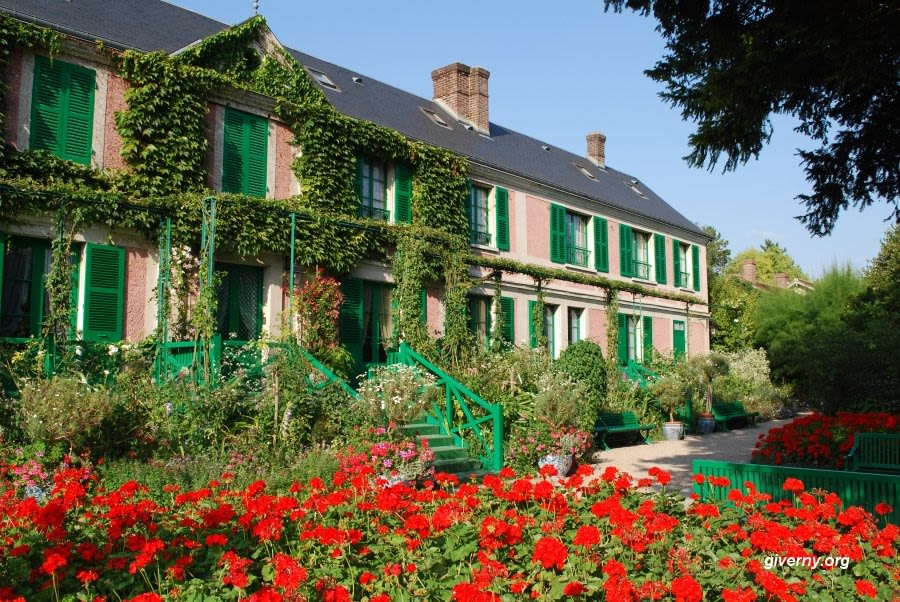 © Ariane Cauderlier
Claude Monet's house
Giverny, France
Claude Monet lived here for 43 years, from 1883 – 1926; the house is a riot of colour and as we head through spring and into summer, I can only imagine how rich the smells of emerging flowers would be.
Many of the rooms have a Formica-like gloss to them; the shutters on the outside of the building are grass green, whilst the kitchen is vibrant blue, echoed further in the sitting room; Monet collected Japanese woodblocks for over 50 years and these marry perfectly with the vibrant blue of the sitting room. Drama continues in the dining room – Monet rejected the fashion for heavy and dark furnishings and had the dining room painted in two tones of yellow! The colours would brighten any day during self-isolation. The house is maintained by the Foundation Claude Monet.
Learn more on the Fondation's website here
© Annie McGrath
A House for Essex by Grayson Perry and architecture studio FAT
Manningtree, Essex
Alain de Botton set up Living Architecture in 2006. The ambition was to enhance the appreciation of modern architecture, whilst providing the opportunity for an exceptional holiday experience, in a space designed by an outstanding architectural practice. There were nine different architecture studios involved with the project, and I would love to be holed up in Grayson Perry's A House for Essex.
The house is an artwork itself whilst also acting as host to a number of Perry's playful, colourful and flamboyant works of art. The house is a 'chapel' to the history of Perry's home county of Essex - the copper-clad roof form is based on medieval stave churches, which feature complex roofs with multiple pitches. At a time of such significant social change, the peace you feel in a church-like building would be very welcome.
Read more about the Living Architecture programme here
See and learn more about A House for Essex here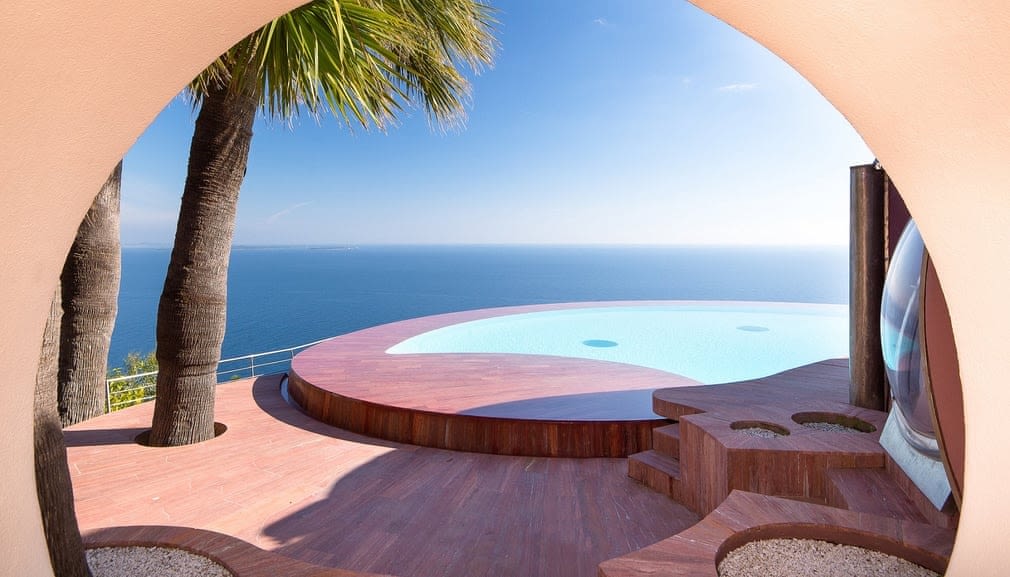 © Tranio Overseas Property
Antti Lovag's 'Bubble Palace'
Cannes, France
Whilst Antti Lovag may be categorised as an architect, he describes himself as a 'habitologist' (a term he coined). Lovag's Bubble Palace is Space Age and organic in equal measure; so distinctive and captivating is its design that it is often used for fashion shoots or as a location for film festival parties and other such events.
In a 2008 article in AnOther Man by Alex Marashian about the Bubble Palace, Marashian includes remarks by Lovag that give some indication as to what 'habitology' is. Lovag says, "Whether for economic reasons or lack of technical solutions, human beings have confined themselves to cubes full of dead ends and angles that impede our movement and break our harmony. I build shelters that bring us closer to nature". The Bubble Palace, with its screaming lack of straight lines and corners, provides the soft curves found in nature that would bring a sense of being at one with the natural world. The view of the Med would be pretty good too!
Immerse yourself in pictures of this astonishing building in this Guardian article