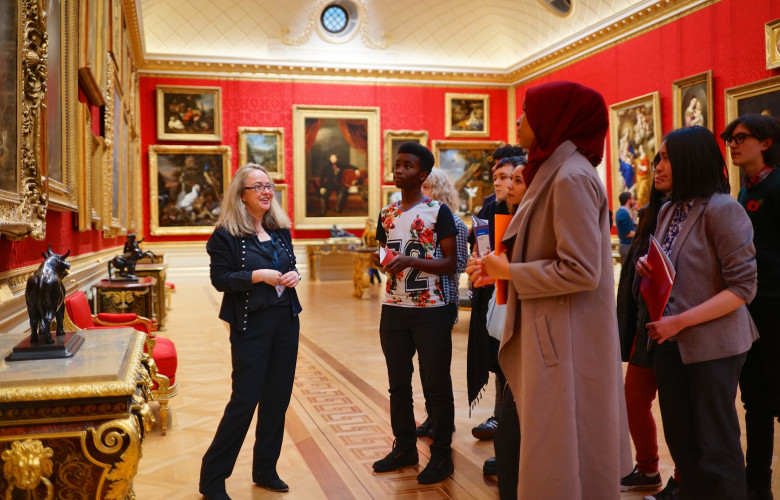 As the darkness of the Covid-19 pandemic continues, we are looking for positives to glean from each day. So, today (27 April 2020), we would like to wish Art History Link-Up a Happy Birthday (sung twice whilst washing our hands, obvs), as the charity celebrates four years of providing free Art History A-Level and EPQ courses to state-supported students.
History of Art has a longstanding reputation of being a subject for the elite, offered primarily at public schools. In 2014, the subject was offered at only 17 state schools, compared to 90 fee-paying schools, and now fewer than eight state schools in England teach Art History. AHLU firmly believes that access to arts education should be open to all.
The charity offers opportunities to students from diverse backgrounds who might not otherwise have had the chance to study the subject. The 2019/2020 cohort is over 80% BAME and/or with Widening Participation indicators and all seven of the students who applied to Oxbridge this year were offered places. Students benefit from accredited qualifications, invaluable skills development, work experience, mentoring and expert insight.
Despite the current lockdown, it is encouraging to see that their programme is continuing online. Classes which are usually held at The National Gallery and The Wallace Collection are being taught virtually, by the likes of Dr Caroline Campbell, Director of Collections and Research, the National Gallery and Dr Xavier Bray, Director of the Wallace Collection. The success of online teaching also means AHLU is looking to expand its reach to students beyond London.
As the charity moves into its fifth year, its commitment to making Art History accessible to under-represented students continues with the launch of a new Supporters & Patrons Scheme. Funds raised will go towards expanding opportunities for more students in the next academic year, and all members will receive invitations to at least two student events annually.
Why not become an Art History Link-Up Supporter or Patron today? It is their birthday after all… https://arthistorylinkup.org/support/supporters-and-patrons-scheme/